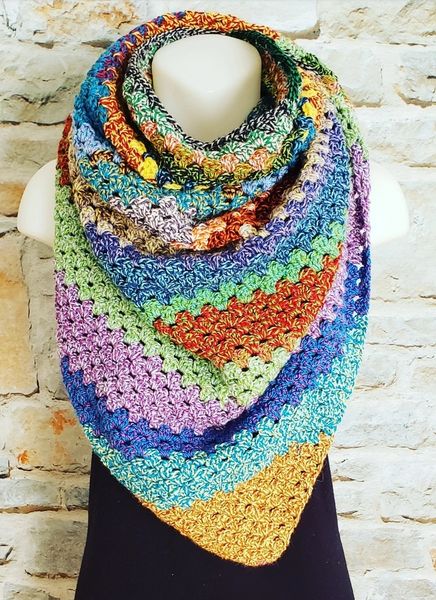 I fell in love with this Tweed yarn 6 years ago. It comes from a 166 year old working farm. I'm so blessed to find these great farms and co-ops in my travels.
I will admit, there have been some color combinations that were atrocious by themselves and I have one in this shawl. 😊 But stitched together, you have to admit, the colors just sing!
Created from 100% wool, you can wear her all 4 seasons when we're no longer under quarantine: summer night bonfires, autumn apple picking, winter sleigh rides and spring morning walks. 

Even though we're not getting out much, there are still Zoom meetings with bosses, co-workers and the kiddos teachers. Put this scarf on with a long sleeve tee and no one will know that you have on your favorite pajamas on the bottom!


This pretty is 30" deep and 72" wide. 
Just enough to wrap around your neck without too much bulk. 
Black Pearl's blanket scarves are made from luxury fibers such as Swedish wool, Japanese silk, and ethically sourced cotton. Completely hand crocheted, all of our Blanket Scarves take several days to make. These are truly one of a kind masterpieces.  
When you see the blanket scarf you want,  buy it because the one you see today may be gone tomorrow.  
Hand wash with minimal agitation in cool water. Gently squeeze in a towel and lay flat to dry.