Olive Green Cowl Dreamcatcher Scarf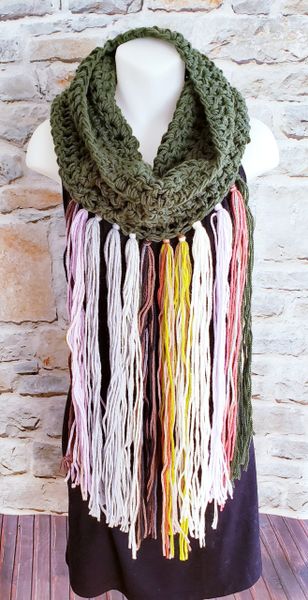 I know camouflage is a favorite of many followers of Black Pearl Creations. This army green Dreamcatcher Scarf is a great alternative to strictly camouflage. 


An olive green coat with brass colored buttons. Do you see it? This oversized scarf is versatile and can be worn with a variety of outfits. 

The silhouette is like a Dreamcatcher so I thought the name was apropos. The fringe is over a foot long. The scarf is an infinity and is made in our famous chunky, thick texture. 
Lighter, with less weight, these scarves are great for chilly Spring mornings.
There is limited availability for the Cowl Dreamcatcher Scarf.. The fringe is from a vintage collection and I only acquired so much...

We pride ourselves on creating crocheted items not found anywhere else. Our pieces are not for everybody and this scarf is a testament to that.