Misbehaving Women Buckle Scarf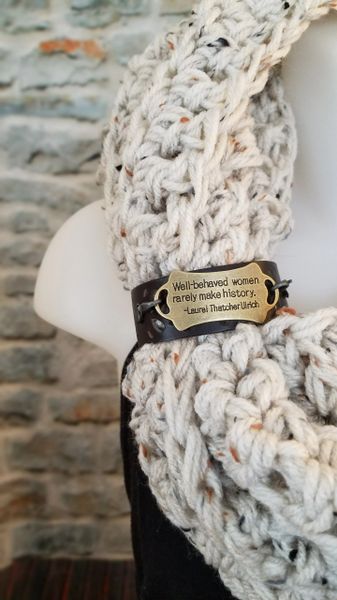 We all have a misbehaving Women hidden within us. Celebrate her with this cozy scarf.
The originator of this iconic statement was Laurel Ulrich, a professor of women's studies at Harvard in the 70's. 
It had mistakenly been attributed to Eleanor Roosevelt. Even though Eleanor is an iconic women, we must give credit where it is due. 
Ms. Ulrich wrote this statement in an academic publication and has a book by the same name. Her 2007 book explores the lives of 3 women whom we do remember: Virginia Woolfe, Christine de Pizan and Elizabeth Cady Stanton. When they each committed their act, it was in intellectual ways and shocking for their time. 
If you have a chance, go check it out.
This scarf is made with a tweed like, non allergic fiber. The black leather cuff and brass cuff make for a edgy contrast.
It measures approx. 12" x 60".
Hand wash in cool water. Wipe buckle gently. Gently squeeze/roll in towel. Lay flat to dry.