Maroon and Gold Infinity with Patches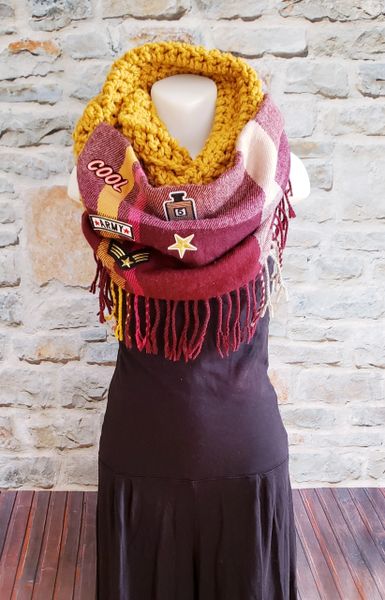 After Holiday 2018, we're baaaccckkk!!
Who doesn't love patches! We know we do! They can spruce up a piece of clothing or, the best part, allow you to ex Express yourself! When I saw this one of a kind fabric, I knew it would make an fantastic infinity and he I was right! The gold highlights the patches and brightens up the maroon!
Absolutely fabulous!
I enjoy making these one of a kind pieces. There's nothing like knowing no one else has what you have! This one of a kind scarf will not last long! These are made from a wool blend and are easily the warmest scarves that we create! Once you try it on, you won't want to take it off! 
Take care of your pretty with hand washing in cool water and laying flat to dry. 

See our other Plaid and Crochet Infinities at: https://blackpearlcrochet.com/t/plaid-scarves