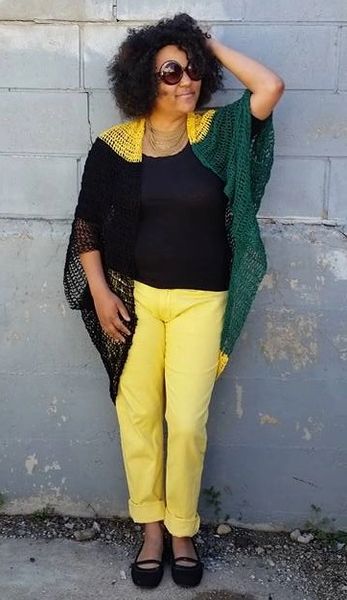 Lovely sea breezes and reggae music is just on part of Jamaica! It's history, culture and food make it the visit of a lifetime! When not basking in the Jamaican sun, you can wear her colors in our Jamaican sweater. Use it as inspiration for a future trip or to think back on one you have already taken!
The colors on this piece of Caribbean clothing are vibrant and will get you noticed! Made of Egyptian cotton, the wind will flow right through it keeping you cool on the hottest of days. 
*Please allow up to 2 weeks for creation. Thank you for understanding this is a handmade item with 1,000s of crochet stitches, not including assembly.*
I'm 5 feet, 4.5 inches. As you can see the sweater comes down on the back.  It is not a structured garment and is suitable to many body types. One size fits most.