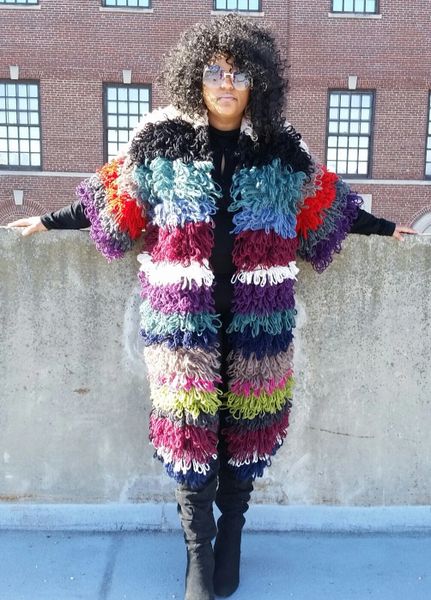 This coat gets compliments from everyone all the way around! If you do not crave attention, this coat is not for you. Made from 100% virgin wool, this sweater coat is colorful and comfortable! 
The pictures were taken in 34 degrees with a brisk wind on top of a 5 story building. My hands were cold with no gloves but my body was warm.
Using a not so popular stitch,  this sweater coat morphs into a statement piece all in its own! Harking back to the days of platform shoes but with a modern twist! 
Big hair, earrings and simple clothes are all that is needed to stand out!
These are made to order and require a 3 week production time. 
Only 4 colors are available:
* Red

* Black
* Cream
* Multi-color
The multicolored coat requires additional charges as other colors are only available in limited quantities. Your multicolored coat will not be exactly as shown but it will be similar. 
Completely hand crocheted, made from a higher caliber fiber and being a one of a kind piece, this sweater coat is a steal at this price.