Burgundy Cowl Dreamcatcher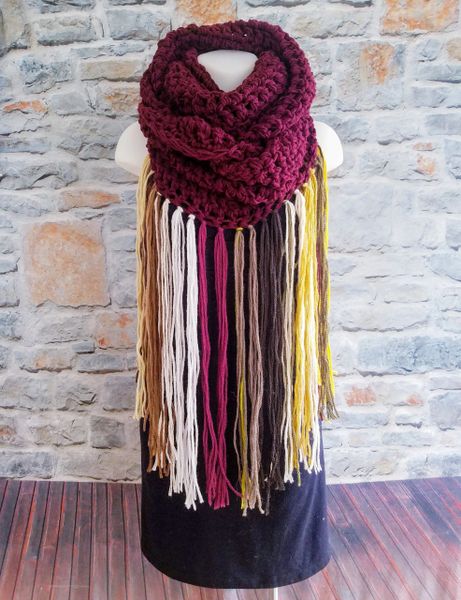 When seeing this color,  there is a reason why you red wine immediately comes to mind: the color burgundy gets its name from the Burgundy region of France, which,  of course,  makes burgundy wine.

I also see elegant dinners, Broadway shows in the winter,  walking down 42nd street humming "Memory" on your way to an after hours desert spot. Your Dreamcatcher is the perfect backdrop to your dress and diamond earrings.  That dark red lipstick shimmers.

Before drifting off into the land of Cats and a dream night in NYC, I have to tell you: There is limited availability for the Cowl Dreamcatcher Scarf. The fringe is a vintage fiber and I only acquired so much...
The silhouette is like a Dreamcatcher so I thought the name was apropos. The fringe is over a foot long. The scarf is an infinity and is made in our famous chunky, thick texture.

We pride ourselves on creating crocheted items not found anywhere else. Our pieces are not for everybody and this scarf is a testament to that.